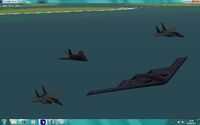 I'm Zak. I am a repainter on YSFHQ and I have my own website called YSZakAddons. In my opinion, I believe I am one of the best repainters on ysfhq and I like to display my work. Also, I run a YSFlight Facebook group called YSFlight addons, which aims to give you a lot of old or new addons for YSFlight.Now,I changed my username to Tigershark.
My YSFlight HistoryEdit
My first ever addon I repainted was a J-10 red. It is on YSPilots.
My AffiliationsEdit
My YSFlight Gallery
Edit
Ad blocker interference detected!
Wikia is a free-to-use site that makes money from advertising. We have a modified experience for viewers using ad blockers

Wikia is not accessible if you've made further modifications. Remove the custom ad blocker rule(s) and the page will load as expected.