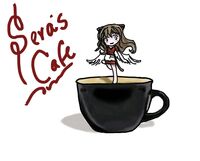 Seraphim is one of the few female pilots in the YS English speaking community. She is the younger sister of Bombcat and is a moderator on the YSFHQ forum. Seraphim, known as "Sera" has been a presence on YS forums and flying on servers since 2006. That same year, she was recruited by Carrier Fighter Wing 171. The long standing members of that squadron are among her closest associations in the YS Community. SOS Brigade Sera's appearances on YS servers are usually known for their high levels of insanity and her preference for bizarre or fictional aircraft and vehicles. May 2011 Seraphim founded the SOS Brigade to promote her own personal style of game play among the YS Community. Sera's Cafe Seraphim established a virtual cafe on the English speaking forums which is known for themed events, a varied menu, and feline sous chefs named "Steve". It is her position as the Cafe owner which has led her to take a prominent role in the General and Miscellaneous sections of the forums. Recently, the Cafe has become the host of a monthly quiz game based on the YSFHQ forum. Seraphim hosts the game and provides prizes. Decals by Seraphim Seraphim is also known for her high quality decals. These efforts are currently focused on creating decals for the SOS Brigade's fleet. Seraphim has also showcased her decals on the two repaints which she has released, an F-16 called "Darkly Cute" and an F-14B+ called "Madcat".
My YSFlight HistoryEdit
Joined the YSFlight English community August 7, 2006
Joined CVW-171 August 11, 2006
Established Sera's Cafe 2008
Became a YSFHQ Moderator February 2011
Founded the SOS Brigade May 18, 2011
My AffiliationsEdit
My YSFlight Gallery
Edit
Ad blocker interference detected!
Wikia is a free-to-use site that makes money from advertising. We have a modified experience for viewers using ad blockers

Wikia is not accessible if you've made further modifications. Remove the custom ad blocker rule(s) and the page will load as expected.