All information acquired from Saloha.net
We fly flights around Hawaii, either charter or personal. Our fleet mainly consists of classic airplanes.
The Airline was founded by ETNU and Falkenwut in early 2007. The response was good and Saloha grew fast. Just in the first 6 days since the beginning the first 100 Flights were done and the number of flights is still growing fast. Due to the bad logging of other YS Airlines it can only be estimated that Saloha is the most active YSFlight Airline at the moment.
The first plane and flagship of Saloha, the Tupolev Tu-154M is still the most popular plane in the Fleet. Six months after it's first flight in Saloha colors it flew over 125 Flighthours and it is the 4th most online used plane (according to the YS Servers Website).
Tupolev Tu-154M Short/Midrange Airliner Used for routes between Islands
DC-3 Old Shortrange Propliner Used for regional routes
Mi-8 Helicopter Used for regional routes
Cessna 182 Small Prop-plane Used for pilot training
Canadair Regional Jet 200 Regional Jet for executive flights
YS-11 Regional Prop Airliner for short routes
DH82 Tigermoth Vintage Propplane for scenic flights
Coming Soon - Airbus A320 Midrange Airliner for the MSFS Fleet
Booking System Edit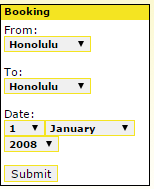 One of the best things about Saloha was the very unique and realistic flight booking system. Although entirely fictional, the booking system shown a timetable of flights with an option to book them.
Since 2008 Saloha Airlines no longer operates.
Ad blocker interference detected!
Wikia is a free-to-use site that makes money from advertising. We have a modified experience for viewers using ad blockers

Wikia is not accessible if you've made further modifications. Remove the custom ad blocker rule(s) and the page will load as expected.