North Kyusu
Edit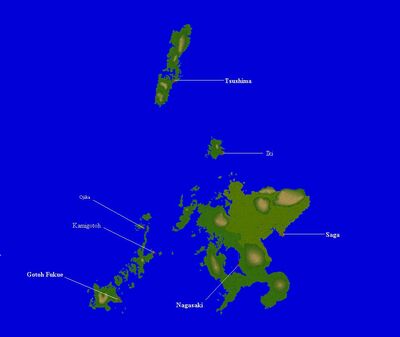 North Kyusu is the third-largest default map in YSFlight, and has no shortage of destinations. It is unique for having several airports higher then sea level. Civilian pilots will have the opportunity to fly to large, medium and small airports, and during night or low visibility, pilots will need to remember the elevation of airports as an added challenge.
Nagasaki:
Rwy 14/32, ILS rwy 32 only
Apron max capacity 4 large airliners
Fuel available
Nagasaki 2:

Saga:
Rwy 11/29: ILS both ends, PAPI visual approach path indicator both ends.
Fuel available
Two aprons midfield, one medium-sized and one small
Main apron max capacity 3 large airliners
Secondary apron has a narrow taxiway, best use is for small aircraft or military use.
Taxiways only go from aprons to centre of runway; aircraft must taxi on runway for full length takeoffs. There is a turnaround bay at each end of the runway.
Fuel available both aprons
Iki:
Medium Airport
Rwy 2/20
Runway is short for medium airliners (B737 on landing) (stock A320 - with only 20% fuel - on landing)
Apron max capacity 1 medium airliner.
Gotoh Fukue:
Feild elevation: 270ft
Terrain just west of airport
Rwy 03/21: ILS rwy 3 only
Apron midfield, max capacity 2 medium airliners
No taxiway along runway, backtracking necessary, no lighting on taxiway or apron
Fuel available
Kamigotoh:
Medium Airport
Field elevation 290ft
Rwy 35/17 no ILS
Runway too small for medium airliners (B737 on takeoff) regional aircraft only
Apron at 35 end of rwy
Fuel available
Kamigotchi has no VOR but does have an NDB.
From Goto Fukue, fly or follow VOR 040 for 27 miles
From all other airports, fly toward Fukue VOR and listen for Kamigotoh NDB, once the signal is picked up, turn to home in on Kamigotoh.
Ojika:
Small Airstrip
Rwy 21/03
Runway too short for any jet, suitable for small aircraft or regional props only
Apron midfield, max capacity 2 small aircraft
Fuel available
From Kamigotoh, head 340 (almost straight out from Kamigotoh rwy 35)
From Gotoh Fukue fly or follow VOR 025 for 30 miles
From Nagasaki, fly or follow VOR 295 for 45 miles
Tsushima:
Field elevation: 200ft.
Rwy 14/32, ILS 32 only, PAPI visual approach path indicator both sides
Terrain on right downwind for rwy 32
Apron at 14 end of rwy.
Fuel available
From Nagasaki, fly or follow VOR 340, 87 miles

Ad blocker interference detected!
Wikia is a free-to-use site that makes money from advertising. We have a modified experience for viewers using ad blockers

Wikia is not accessible if you've made further modifications. Remove the custom ad blocker rule(s) and the page will load as expected.