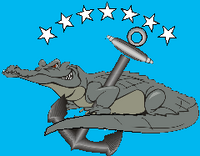 I spent a short time in the US Navy working onboard one of the vessels in our Gator-Fleet. The USS Spiegel Grove, LSD-32. She's no longer afloat. She is now a part of the Artificial Reef Program off Key Largo, FL (and a very divable wreck she is). The Flight-Deck is/was only about 50'x50', but it held a fascination for me when we received helo's on-board. I've since done other things like, Security-Guard, Drafting, Land-Surveying, and Part-time Pizza Delivery. I've finally settled into a less active type of work; collecting fares on a Toll-way. It's not an extravagant job but it has its moments.
My YSFlight HistoryEdit
I went on-line looking for a flight simulator that wasn't going to break my computer's capabilities and I found YSFlight
My AffiliationsEdit
My YSFlight Gallery
Edit
Ad blocker interference detected!
Wikia is a free-to-use site that makes money from advertising. We have a modified experience for viewers using ad blockers

Wikia is not accessible if you've made further modifications. Remove the custom ad blocker rule(s) and the page will load as expected.