About us
Edit
Malaysian Airline System (MAS; Malay: Sistem Penerbangan Malaysia; branded as Malaysia Airlines; (Malay: Penerbangan Malaysia) is a major airline operating flights from Kuala Lumpur International Airport and from secondary hubs in Kota Kinabalu and Kuching to destinations throughout Asia as well as a handful of destinations in Europe and Oceania. Malaysia Airlines is the flag carrier of Malaysia and a member of the Oneworld airline alliance.In 2nd of November 2014,Malaysia Airlines was bring to a new platform,YSFlight by NajmiCreative.The main purpose of the creation of the Malaysia Airlines VA in YSFlight is for those who can't afford to buy Microsoft FSX and Infinite Flight.registerations is still open to everyone.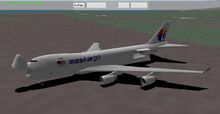 nowdays fleet
-B747-400
-B747-400F
-B737-800
-B777-200ER
-B777-200ER[Heliconia Freedom of Space]
-A330-200F
-A330-300
-A380-800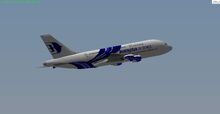 leased/classic fleet
-B707-321
-B737-200
-A300B4
-DC-10
-MD-11
-MD-11F
-Facebook Malaysia Virtual Airlines
Ad blocker interference detected!
Wikia is a free-to-use site that makes money from advertising. We have a modified experience for viewers using ad blockers

Wikia is not accessible if you've made further modifications. Remove the custom ad blocker rule(s) and the page will load as expected.