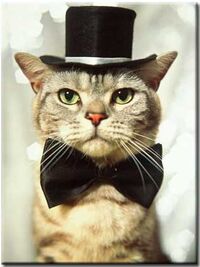 I'm MPP, your average 15 year old. Not many interesting things happen to me. I've been unlucky enough to end up with something called Crohn's disease. Nasty genetic disease, and I'd rather not talk about it. Go google it if you want, I'm not stopping you. I'm the founder of the now shut down YS Newsletter. I may be starting it up again in future, potentially with a different name and the aid of a few mates. As you may have guessed, judging by my Avatar, I like cats. I've got one of my own called Tigger. My Dad's got two. One's a tabby (Similar to my Avatar actually, just with alot more dark brown fur) and he's called Taz. The other is called Sooty, and she's blacker than black. Trust me, you'd lose her in a dark room. That's happened many a time already. I also write stories! I tend to write without any true planning. I might note down some characters, places, events, etc but I won't plan it properly. Currently (24/04/2012), I've got two stories in progress. "Wolves", based on, guess what, wolves. Another is a fan-fiction, based on a certain TV show, though only some people know how to access it. I'll probably release it at some point on HQ, but that's under debate. I might do requests. I've never had one, so I don't know how hard it'll be to write a story for someone else. Feel free to send a PM to me at YSFHQ if you'd like a story written for you. Can't promise anything, but I'll give it a go. Might take a while, due to other commitments, both in real life and online, namely my 2nd story.
My YSFlight HistoryEdit
I've been flying on YS for a few years now. The first year or two I only flew offline, but now I'm flying online much more often. You'll often see me flying around in a F-14 Tomcat, or one of the 241st's aircraft. Sometimes I'll be flying a airliner. I do a fair bit of DogFighting (DFing) and bombing. I dabble a little in repainting and have released one repainted aircraft. You can find it here: http://ysfhq.com/forum/viewtopic.php?f=31&t=2615
My AffiliationsEdit
I'm with the 241st Shadow Hunters, a fighter squadron, lead by Vincentweb and Justen Not Relevent. I was with FA VA until they, unfortunately, shut down.
My YSFlight Gallery
Edit
Ad blocker interference detected!
Wikia is a free-to-use site that makes money from advertising. We have a modified experience for viewers using ad blockers

Wikia is not accessible if you've made further modifications. Remove the custom ad blocker rule(s) and the page will load as expected.