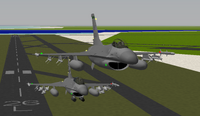 I go by the name of Misfit or on forum; ThatMisfit. I used to be known as KD or Killerdeck. I first started playing YSFlight in early 2007 and found out about YSP, I joined up as soon as I could and started flying on the servers which made my interest for the game grow. My first squadron was RPFS (later to be changed to RPFW) then the 241st Shadow Hunters but resigned soon after to look for a more active squadron. In about 2008 - 2009 I joined up to the VFA-49th GhostHawks and flew with their squadron for about a year roughly. I then went on in early 2010 to create the 617th Squadron (617SQN) with Spike flying Tornado GR.4A's only as a replication of the real life RAF squadron, after a rough 3 months of the 617SQN I left to join the 3rd Air Wing, an ally to the legendary CVW-171st; The biggest YS Squadron to ever rule the skies. I was promoted to XO of the 3AW but then the CO closed the squadron, later joining the CVW-171 in late 2010.
My YSFlight History
RPFS - CVW-171 War (2007)
CVW-171 - VFA-49th war (Mid 2008 to Early 2009)
YSBI (YS Blue Impulse)(Mid 2009)
3AW (Mid 2010)
VFA-49th (Late 2008)
The YSFlight Horsemen (Early 2011 - Present)
YS RAF Jaguar Display Pilot 2010 (Early 2010 - Early 2011)
RPFW/RPFS (Mid 2007)
617SQN (Early 2010)
CVW-171 (Late 2010 - Present)
My AffiliationsEdit
Trainee of the CVW-171
Lead pilot of the YSFlight Horsemen Demonstration Team
YSFlight Repainter
YSFHQ Member
My YSFlight Gallery
Edit
Ad blocker interference detected!
Wikia is a free-to-use site that makes money from advertising. We have a modified experience for viewers using ad blockers

Wikia is not accessible if you've made further modifications. Remove the custom ad blocker rule(s) and the page will load as expected.