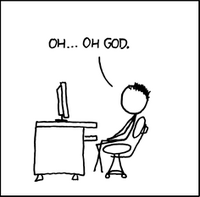 Jaidro has a preference towards the F-14 Tomcat and the F-8 Crusader (a.k.a The Noobtube)[citation needed]. Whether or not he added the F4U Corsair to his favorites is still in debate. Jaidro enjoys very much The Game and wishes you Happy Flying!
My YSFlight HistoryEdit
Jaidro started playing YSFlight Simulator in March of 2009. Joined YSP in April of the same year. By June, He joined the Carrier Fighter Wing 171 . He does some modding in the scenery area and has released 3 maps in total. After completing his training with the VT-171, he transfered to the VFA-22 led by Animal . After some time it was disbanded and he had to transfer to VFA-82, and had been an active member under the leadership of Iceman ever since.
My AffiliationsEdit
My YSFlight Gallery
Edit
Ad blocker interference detected!
Wikia is a free-to-use site that makes money from advertising. We have a modified experience for viewers using ad blockers

Wikia is not accessible if you've made further modifications. Remove the custom ad blocker rule(s) and the page will load as expected.