Intercontinental Airways was an airline founded in August 2011 by HawkbitAlpha on YSFHQ. It was notably the first YSFlight VA to run an escort division for its own airliners, making use of a specialized red-and-black F-22 in its livery (later adapted in the same color scheme by Team Rage). Its core staff was made up of:
HawkbitAlpha (then known as Prince Darkstar) officially founds IAVA on YSFHQ. A week later, then-pilot acf492 joins.
IAVA is granted Certification-in-progress (CIP) status with 7 pilots on the roster.
IAVA recruits its 10th member, CDKomp
IAVA joins its merger, ExpressBlue, in the MembershipDual program, sharing an aircraft pack.
HawkbitAlpha, because of his continuous absence in YSFlight, appoints then-EXO acf492 to the CEO position. HBA steps down to EXO.
After a long period of waiting, the IAVA fleet pack (made by Boogergoblins and Dragonheart R1) is finally released by the IAVA staff. 3 airliners, along with the VA's specialized escort F-22, are included.
Long-time DEO Darris XTMRage resigns from YSFlight, and in turn, his position as DEO of IAVA.
Due to a lack of communication between himself and all other members (including acf), HawkbitAlpha officially declares IAVA defunct.
The shutdown of IAVA is completed, with the forums permanently locked. Many of the VA's assets, including the ExpressBlue pack, are then salvaged and recompiled to form Revenant Express, a VCA (Virtual Cargo Airline) founded by HawkbitAlpha and FairchildHawker.
http://intercontinental.forumotion.com/t200-downloads-iava-livery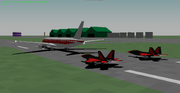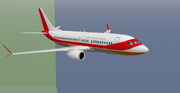 External Links
Edit
http://intercontinental.forumotion.com/
Ad blocker interference detected!
Wikia is a free-to-use site that makes money from advertising. We have a modified experience for viewers using ad blockers

Wikia is not accessible if you've made further modifications. Remove the custom ad blocker rule(s) and the page will load as expected.