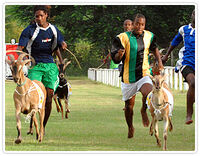 I am a national champion goat racer for the mighty country of Kenya. With an interest in linguistics, and the human mind. I tend to stay incognito, all to study people; from city buses, to random small towns. Like many other older players in YS, I am in college, working, and building my life.*
A note to the YSflight Wikia admin: The game.
My YSFlight HistoryEdit
I began flying in the early 2000's, under random names. Until a few years ago, I have seen what the 171st could do mostly from the days back with RPFW. With that interest, and becoming mates with the 171st, I was soon accepted in. Still a nuggets, not decided on what I care to do, either go into the HCS, and fly helicopters, or wait for another branch of the 171st to take command of. From just flying on servers, and getting to know other players. I soon became a founder of Team AWESOME.
My AffiliationsEdit
I am a member of: CVW-171, VT-171 (Nuggets), Team AWESOME: # Whatever.
My YSFlight Gallery
Edit
Ad blocker interference detected!
Wikia is a free-to-use site that makes money from advertising. We have a modified experience for viewers using ad blockers

Wikia is not accessible if you've made further modifications. Remove the custom ad blocker rule(s) and the page will load as expected.