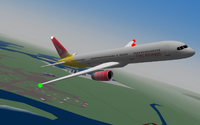 About your AirlineEdit
Fast Airways Virtual Airline (FAVA) Was created in June 2010. Fast Airways Virtual Airline was the most successful Virtual Airline of 2011-12 to date. Fast Airways Virtual Airline had a total of 50+ Members with a fleet of 15 aircraft that were all suited to the destinations they flew to. Fast Airways Virtual Airline has their own unique livery of red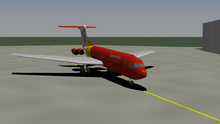 and yellow which slowly progressed to fleet pack 4 which saw logo added to Fast Airways Virtual Airline for the first time. Fast Airways Virtual Airline was a very unique Virtual Airline, They often held Air Races and Civilian Formation flying among other competitions. In January the decision was taken to close the Virtual Airline leading to its closure on February 2012.
Fast Airways Virtual (FAV)
Fast Airways was re-started in September 2015. The airline continues to serve Hawaii as well as more comprehensive destinations such as United Kingdom, Canary Islands, Japan, Tennessee and DPRK North Korea.
External Links
Edit
Ad blocker interference detected!
Wikia is a free-to-use site that makes money from advertising. We have a modified experience for viewers using ad blockers

Wikia is not accessible if you've made further modifications. Remove the custom ad blocker rule(s) and the page will load as expected.