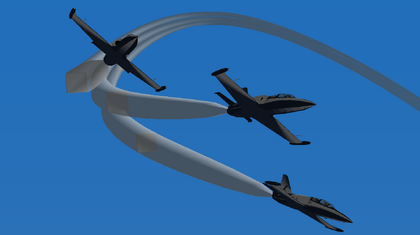 The YSFlight Blue Spectres Jet Team is a two-ship aerobatic team that operates the light and dependable Aero L-39C Albatross. Their first public appearance took place at the YSFlight Pensacola Air Show on the 6th of June 2015. The team's pilots are "MaxG" and "Kujo".
They have appeared in multiple virtual YSFlight events scattered across recent years. Much like the YSFlight Blue Dolphins Jet Team, their mission is to inspire and push the message of YSFlight multiplayer aerobatics and aerial events to others interested in both virtual & actual aviation.
Prior Paint / LiveriesEdit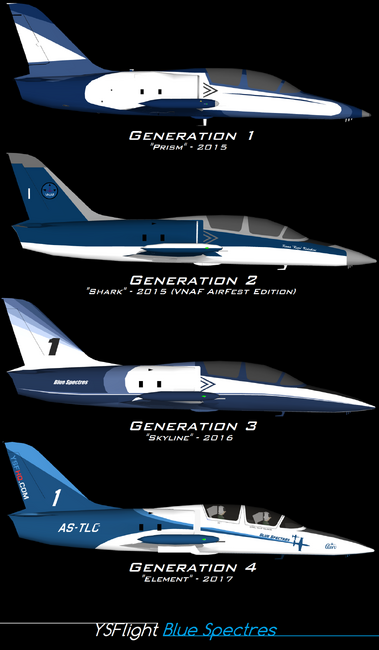 Depending on the year and specific event that they plan to perform at, the Spectres seem to have an active change of livery, using their traditional blue and white colors. Some are direct references to YSFlight HeadQuarters organizations, while others are based off the show's location.
Their first surprise appearance was followed by their first generation paint scheme named "Prism," for it's mix of triangular and curved visual design. The second generation "Shark" paint made specifically for VNAF AirFest 2015, applied the VNAF Aerobatics roundel to the tail and utilized both colors to represent the show's location.
In late 2015, the Blue Spectres appeared at the YS Reykjavik Air Race Trials on the 17th of October with newer paint schemes, making it the team's third transition. They were considered a side act along with the Vulcan and Harrier demonstrations. These aircraft had a swift curve design similar to that of the old Prism paint. Phasing out of their usage for solid colors, these new liveries included a smooth gradient pattern across the wings and tail. They continued to use these aircraft for VNAF AirFest of 2016.
Since then, there has been a fourth unconfirmed livery for the team under the name of "Element." Future appearances by the team are also unconfirmed.
Public YS Air Show AppearancesEdit
Only five air shows have had the YSBSJT perform:
YSFlight Pensacola Air Show / June 6th, 2015
VNAF AirFest / August 14th, 2015
YS Reykjavik Air Race Trials / October 17th, 2015
VNAF AirFest / July 14th, 2016
YSFlight Aerobatic Expo / September 23rd, 2017