Contrary to popular belief, the blue Dolphins are not Dolphins.
The YSFlight Blue Dolphins are a formation Jet Display team formed in 2011 by Scarecrow. Since 2011 the team has become very successful in becoming YSFHQ's premiere Display team mostly performing as a headline act in all YSFlight airshows to date. The Blue Dolphins use the KAI T-50 Golden Eagle an advanced trainer used by the South Korean Air Force. The aim of the YS Blue Dolphins was to bring like minded aerobatic enthusiasts together in a team to perform crowd pleasing outmaneuvers and tight formations which can only be performed after hours of practice and dedication leading up to the event.
The Team Edit
Blue Dolphin 1 - VNAF ONE
Blue Dolphin 2 - Venom "Venoob" The noobmaster Noob
Blue Dolphin 3 - Scarecrow
Blue Dolphin 4 - Kujo
Notable Appearances Edit
YSAS Sendai Air Festival - April 2nd/3rd 2011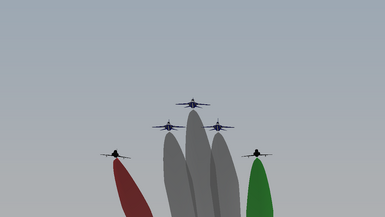 YS Grand Prix "Fly past"- 2011
YSAS Jones Beach Airshow - October 29th 2011
YSAS NAF El Centro Airshow - March 17th 2012
VNAF Airfest July 12th/13th 2013
YSAS International Air Show - November 16th 2013
YSAA Sanicole Airshow - January 4th 2013
UKAA YSFlight Royal International Air Tattoo (YSRIAT) - December 8th 2013
YSFlight Phillip Island International Air Show - April 19th 2014?
YSFlight Phillip Island International Air Show - April 20th 2014
YSAS Cherokee Valley Air Show - March 15th 2014 - Cancelled
YSAS Maui Festival of Flight - June 1st 2014
VNAF Air Fest - August 15th/16th 2014
YSAS International Air Show - October 18th 2014
Ad blocker interference detected!
Wikia is a free-to-use site that makes money from advertising. We have a modified experience for viewers using ad blockers

Wikia is not accessible if you've made further modifications. Remove the custom ad blocker rule(s) and the page will load as expected.