About The SquadronEdit
108th TFS
The 108th TFS (Tactical Fighter Squadron) was a fixed-wing ground attack squadron formed in March 1st 2012. The 108th TFS is best known for it's use of the AV-8B Harrier which was used for almost all roles.
108th TFS Sub-Squadrons
1 F (Fighter) Squadron
2 T (Transport) Squadron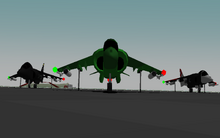 4 H (Helicopter) Squadron
95th SD (Stealth Dragon) Experimental Squadron
108th SFW
The 108th SFW (Strategic Fighter Wing) Was the second revolution of the 108th. This squadron continued to focus on training though put more emphasis on operational missions. The fleet was mostly made up of European aircraft.
108th SFW Sub-Squadrons
1 F (Fighter) Squadron
2 T (Training) Squadron
4 GA (Ground Attack) Squadron
The 108th is currently disbanded.
Ad blocker interference detected!
Wikia is a free-to-use site that makes money from advertising. We have a modified experience for viewers using ad blockers

Wikia is not accessible if you've made further modifications. Remove the custom ad blocker rule(s) and the page will load as expected.